Up Coming Workshops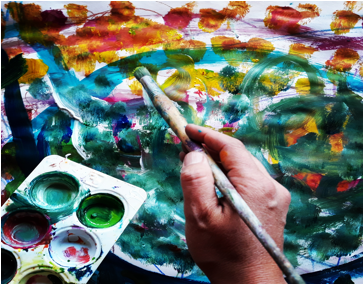 Art as PROCESS
Discover and explore your passion and purpose with these full day workshops.  An invitation to come back to yourself, fill your cup, nourished and renewed.   Each workshop has different themes and uses a combination of painting, drawing and collage with guided exercises, meditation and art therapy processes. Specifically designed to explore and uncover your unique authentic expression in a supportive group and nurturing space.
At The Koornong Art Therapy Studio, Warrandyte, VIC
2018 PROGRAM
Pandora's Box September 16th
Free from the constraints of everyday life this creative journey is all about you. A tactile experience using images, objects, fabrics and words to transform a 3D box that reflects your authentic self. With step-by-step creative processes we slowly unwind, de-stress, trust our intuition and find self-acceptance, the final gift in Pandora's box
For bookings click on link
https://www.eventbrite.com/e/pandoras-box-art-as-process-workshops-tickets-47630002620
*
Heart of the Matter October 21st
Paint with passion. This is an energetic workshop to inspire your creativity and allow your heart to sing. With guided drawing and expressive painting we will connect and move through blocks and find openings that are available at every layer. These playful exercises focus on reducing stress and conflict by overcoming the self-critic, and allowing you to have an experience of flow.
For bookings click on link
https://www.eventbrite.com/e/heart-of-the-matter-tickets-47980358544
*
Story in Me November 11th
Don't worry about a thing, this workshop is a simple yet powerful process that allows a story to emerge. It may be a story of hope, change, healing or one you may want to rewrite. Step by step, page-by-page, we build our self-confidence, intuition and self-trust. A creative yet meditate play using words, images, collage, anddrawing. There's a story in you waiting to happen and it wants to be told…..this is your chance.
For bookings click on link
https://www.eventbrite.com.au/e/story-in-me-tickets-48053959687
*
Nature Speaks December 9th
Using art therapy, sand play, and collage and guided meditation we draw on the gifts of nature and the peace, wisdom, beauty and the refuge it offers. Throughout the day we will let ourselves slow down and connect, find our center, beauty, wisdom and resilience. Let the healing messages of flowers, animals, trees and all that nature offers, come to you offering guidance, support and strength for your life.
For booking click on link
https://www.eventbrite.com/e/nature-speaks-tickets-48055145233
*
No art experience necessary, yet artists can benefit.
Includes all art materials and lunch.
Cost $250 plus booking fee for each workshop

Location: The Koornong Art Therapy Studio, Warrandyte, VIC
Directions given with confirmation email
Time: Sundays 10am -4pm.
info and enquires contact Tania Virgona
P/ 0421 808 401 E/ enquires@taniavirgona.com.au