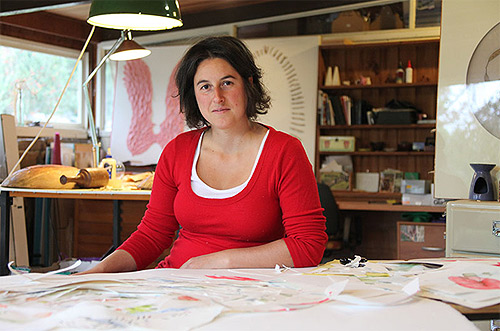 Qualifications – Exhibitions – Major Projects
Tania Virgona
MA ATh, Post Grad Dip. Public Art, BA (FineArts)


Tania Virgona is a Registered Art Therapist, Somatic Experiencing Practitioner and Professional Artist.
Her Fine Art discipline is drawing and installation, and she exhibits regularly. Tania also provides community consultation for public art and team building. Tania's art therapy practice and expertise is in the area of trauma recovery with adults and children using mindfulness and sensorimotory techniques.
My journey: The development of my career began at art school where I found myself questioning the purpose and function of art in our modern society. It appeared that art in our society belonged in the realm of the elite and was only understood and appreciated by the educated. Art school can be a difficult process but also one of great soul searching. In this process I found my voice and my motivation for my artwork was through the heart and feeling space, a place that cannot be intellectualised but only experienced. In my final graduate show it was revealed to me that my art spoke to and was greater appreciated by the general public rather than to my peers.
This led me onto a post-graduate diploma of Public Art to explore the relevance of art in our society. Following this study I became engaged with a number of public and community projects, where I facilitated and witnessed the inherent healing quality of art.
Now I understood the place for art in our society and my role within it. A Masters of Art therapy followed where I witnessed the mysterious and wonderful way that art can assist us to heal our lives and allow us to delve deeply into ourselves to recover from life's hurts.
Tania continues to exhibit regularly and has worked with a wide range of client groups such as Offenders, Veterans, Refuges and Women and Children who have experienced family violence and have attachment and relationship issues as a result of developmental trauma.
'All art comes from terrific failures and terrific needs that we have.  It is about the difficult of being a self because one is neglected. Everywhere in the modern world there is neglect the need to be recognised, which is not satisfied. Art is a way of recognising oneself' 
– Louise Bourgeois
Qualifications
2006 – 08  Masters of Art Therapy, Latrobe University
2001            Post Graduate Diploma in Public Art, RMIT University
1996 – 98  Bachelor of Fine Art Visual Art, Victorian College of Art
1995            Associate Diploma of Art Visual Art, Box Hill College of TAFE
1993            Advanced Certificate in Art and Design, Box Hill College of TAFE
Professional Art Practice
Solo Exhibitions
2013        Upcoming exhibition Red Gallery
2009        The Comfort of Being Solid  Red Gallery A
2007        Bodytide Wall Gallery
2006        Bodytide  Red Gallery
2004        Artist in Residence Exhibition Geelong Gallery
2003        Recent Works Qdos Gallery
2003        Shadow Lands Stella Dimadis Gallery
1998        An Act of Expression Oz Framing Gallery
Group Exhibitions
2006     Christmas show  Wall Gallery
2003     Post Card Show  Linden Gallery. Group Show
 She  Walker St Gallery. Selected group show
Dominique Segan Drawing Prize
Harcourt Valley Vineyard. Castlemaine State Festival. Selected Group Show
Wyndham City Contemporary Art Prize,
Selected Group Show
2002     Terra Firma– Yarra Sculpture Trial – Yarra Bank Park
Selected group exhibition
2001     Old Landscape: New Garden – Sculpture at Sea Winds
Arthurs Seat – Selected group exhibition.
Curated by Ken Scarlett
Menagerie  Upstairs Gallery
Selected group exhibition
Yering Station Sculpture Exhibition Yering Station
Selected group exhibition
1999      6 and 9  69 Smith Street. Group exhibition
Mornington Peninsula Spring Festival Drawing Show
Mornington Peninsula Regional Gallery. Selected group exhibition
Chinese Whisper Yume Ya Gallery
Collaborative exhibition
1996      The 18th International Independent Exhibition of Prints
in Kanagawa' 95
Kanagawa  Japan Global exhibition
Major Projects
Public Art Projects and Commissions, Community  Consultation, and Project Management
2010/11 Healsville Community Labyrinth
Designed and facilitated art consultation for local community to inform the design of the public artwork that were installed within the new public space of a labyrinth
2010      St Andrews Primary School Bush Fire Recovery Program
Developed and facilitated an art therapy program for a group of children recovering from the Black Saturday bush fires
2009    Transforming Stories
An Art therapy program for children who have experienced Domestic Violence (DV). An exhibition of their artwork  at the local gallery with floor talks raised awareness of the effects of DV on children
2008    Kew East Primary
Devised and facilitated an art program for groups of grade 6 students. The project aimed to locate a sense of identity along with personal and group values. Students learnt to work within groups, develop tolerance of others and to manage tasks.
Warburton  Play space
Created and facilitated a community consultation process which was used to inform  the design of a permanent climbing feature for preschool age children. Sara McPherson and I worked with Warburton primary school students, using art therapy to identify the needs of the client group and a sense of place for the sculpture. The project was able to met the growing physical and psychological developmental needs of young children. A report of aims and outcomes to stakeholders was submitted.
Undrea Artist in Schools 
I worked with school children and families within the farming community suffering from drought. The project facilitated the expression of local issues and raised awareness. A permanent artwork representing the town values and story was constructed by the farming community who enjoyed a measure of respite from their daily duties and pressures.
2007     Transformative Process of Nature: A Visual Articulation of  Swan Bay
Queenscliff Artist in Residence, working with school groups documenting place and belonging
Somali Refugee Weaving Project
Adult Olympic Education, City of Banyule Vic Health Grant
Taught and facilitated weaving skills to Somali refugee women and children to gather and strengthen their cultural connection, reduce isolation and provide a forum for the expression of issues. The final artwork is on permanent display in the health and education foyer.
Auburn Preschool Artist in Residence
An environmental project connecting children living in cities with the natural elements. I involved children and parents in the weaving and building process of shelters made from natural materials, fostering the development of skills and self-esteem.
2006    The Weaving Games at the Geelong Botanic Gardens
Random weave basket workshops with primary school groups from the surrounding area using cane.
High Tide Festival at Torquay,
Random Weave workshops with primary school groups from the rural western district.
2004    Creative Junction Community Weaving
Shire of Yarra Ranges
Facilitated connection between isolated community members and the natural environment through a collaborative weaving project for the Shire of Yarra Ranges. A specialized weaving apparatus was designed to seat up to five weavers at a time bringing individuals together during the creative process. Worked with single mothers, children, young teenagers and family  groups. A report was submitted to stakeholders.
Tiwi Design and Munipi Art Centre Worked with indigenous artists
 2003   Falling Leaves Essences Drawing Commission
For A deck of cards part of a book for vibrational healing
Artist in Residence at the  Geelong Botanic Gardens
Arts Victoria Professional Development Grant
Six-month placement creating artworks and facilitating a collaborative community weaving project.
Inward Journey out Artist in Schools Arts
Victoria Grant Newcomb Secondary College Geelong
A project to guide secondary school students through a creative process by going on a bush camp to make art and for exhibition.
Stoney Creek Environmental installation. 
A one-day installation to encourage the public to use the space and raise awareness of the environmental issues that exist in the region using hay and leaves.
2002    Walk West Collaborative design project
City of Geelong. Commission from the Federal Government. A series of permanent artworks were designed to mark a pedestrian route along a residential street to the waterfront of Geelong.
2001     International collaborative Public Art project in Turkey
RMIT initiative with Sile' in Turkey. Coloured cement tiles were made and laid in village park follows by an exhibition in the village centre
1998     Construction in process – V1 Collaboration
Collaboration of international artists coming together in Melbourne. A Collins Street building was made available for artists to convert the space via installations.
Publications
2003/4  The Geelong Advertiser and Il Globo Profile article on the Artist in Residence
2003      Australian Horticulture (ISSN #0726-2256) Volume 101 No.2 page 62-63
 Gail Thomas Profile article on the Walk West Project Melbourne Times
2002      The Geelong Advertiser. Profile article on the Walk West Project
2001     ' World Sculpture News (ISSN #1024-087x)
 Volume 7 No.2 page 57-58 Ken Scarlett
 The Mornington Leader.
 Feature article detailing 'Whispering Wishes'
Grants
Arts Victoria Professional Development grant
Artist in Residence at Geelong Botanical Gardens
Arts Victoria
Artist in Schools
Collections
The Alfred Centre
City of Greater Geelong
Private Collections
Awards
Museum Australia (Victoria) Museum Industry Recognition
Award for Meritorious Achievement for Artist in Residence at the Geelong Botanic Gardens